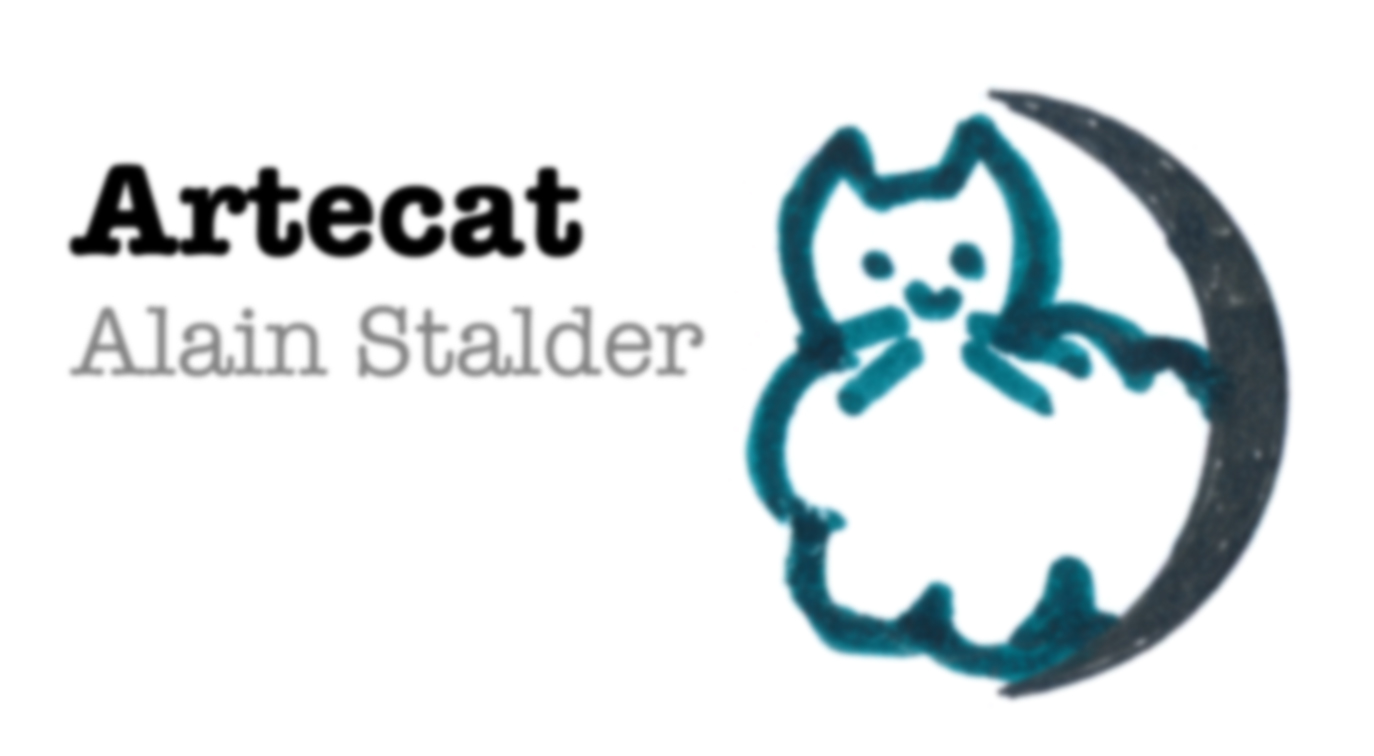 de en Home | Books | Posters | 3D-Prints | Art | About
exactphilosophy.net 2016 (Book)
Paperback (70 pages, A4, b&w inside)
Predominantly in English
→ Cover
→ Details about book format, author, publisher, etc.
Available here:*

Free download as PDF (complete book):
Description
The website exactphilosophy.net as of August 2016 in book-form, with all web pages in English, plus a selected article in English and German.
Original Description (Back Cover)
This book presents the website exactphilosophy.net, as of 2016. Written by a Swiss physicist, it contains lots of beautiful novel ideas, inspired by nature and physics, ancient and modern philosophy, as well as by astrology, the I Ching and more...
Please note that this book does not yet present these ideas in a way and format suitable for most readers. Instead, it addresses anyone with a mind free enough to think outside of some of the usual "boxes", paired with imagination and also a more scientifically critical mind in the end, as implies the "exact" in exactphilosophy.
In essence, first "elements" are tentatively defined from first principles, inspired mostly by Kant, then some correlations between these abstractly defined "elements" and the ancient Greek elements, as well as with the 8 trigrams of the Chinese I Ching, are revealed, and finally a simple model of the 12 star signs in terms of transformations of the elements is revealed and explored.
Cover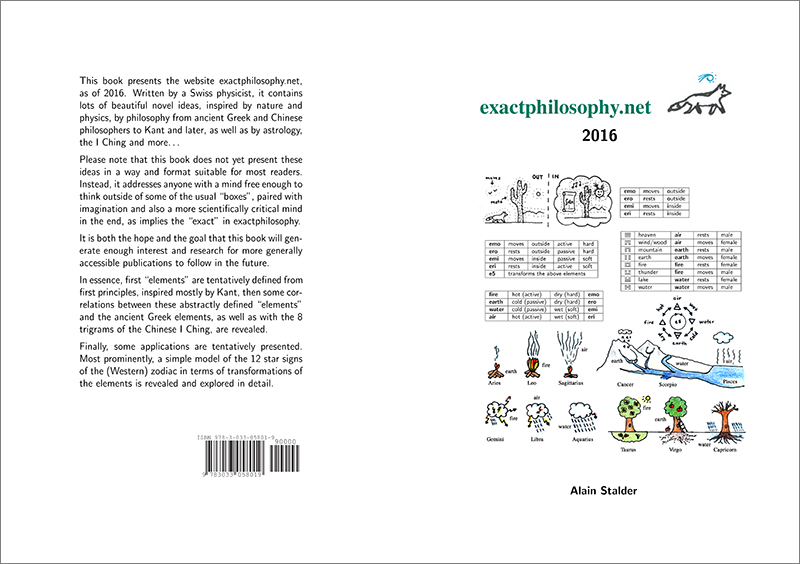 See the → free PDF of the complete book for book pages...
Table of Contents
Preface
Web Pages
Welcome
way
space and time
metamorphosis
greek philosophy
i ching
evolutions
mixed feelings
elemental cycles
artemis
References
Links
Selected Articles
Elementary star signs
Elementare Sternzeichen (in German)
Details
Title: exactphilosophy.net 2016
Author: Alain Stalder (Dipl. Phys. ETH, Dr. rer. nat. (Ph.D. in physics), *1966)
Publisher: Alain Stalder
ISBN: 978-3-033-05801-9
First published: August 2016
Format: Paperback A4 (8.3" × 11.7", 21 cm × 29.4 cm), about 1/4" thick (5 mm)
Colors: Black & white inside (text and images), cover in color
Language: English, one article additionally in German
Pages: 70
Available here:*

Free download as PDF (complete book):

* Artecat Alain Stalder is thus far not selling books directly to dealers or readers.